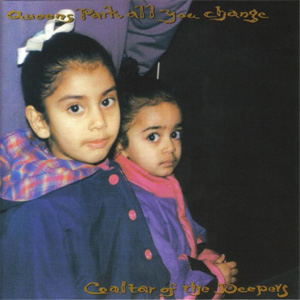 Queens Park all you change [October 25, 1992]
[Stinky Records]

Queens Park all u change 2:00
(s.e.1) 0:13
thrash up disturbace #4 2:04
Salah's living4moment 4:55
(s.e.2) 0:29
(s.e.3) 0:38
charming sister kiss me dead!! 5:28
(s.e.4) 0:51

NARASAKI (vocals, guitar)
KANNO (drums)
TAKATORI (guitar)
NAGASAWA (bass)
Sayuri.k - (bg vocals & tambourine)

[photos]
back
booklet
booklet 01
booklet 02
interior
CD
[photos credit Justin]


[scans]
cover
back
[scans credit HAETAE]

NOTE:
The title is referencing the Queen's Park station in London.
A sample ("mama mia") of Queen - Bohemian Rhapsody can be faintly heard in the background of Queens Park all u change.
They possibly attempted selling overseas starting with this album.
The scans were from the EP Box Set.